Department of Pediatrics
The Department of Pediatrics at the University of Texas Health Science Center at San Antonio is proud to take on the roles of educators of both the current and next generation of health care providers, providers of cutting edge clinical care, as researchers unlocking the doors to new knowledge and advocates for our society's most precious asset — our children.
Pediatrics Highlights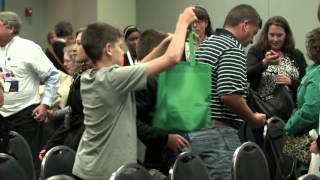 Pediatric Residency Graduates Featured on AAP National Conference Video
Jessica Molina, MD (2014), Juliana Robles, MD (2014), and Sarah Stafford, MD (2013) are briefly featured in this year's AAP National Conference video (at about the 2:21 mark).
LINK: www.youtube.com
---
Ryan Van Ramshorst, MD "TPS Early Career Physician Award" Recipient
October 2015 - Dr. Ryan Van Ramshorst received the "TPS Early Career Physician Award" at the Texas Pediatric Societies' meeting in Sugarland, TX.  During his acceptance speech, he acknowledged his continuity attendings (pictured here with those that attended the meeting).
LINK: txpeds.org
---